Il profumo Sirenide è una fragranza floreale che avvolge i sensi con eleganza e raffinatenza. Il suo packaging si ispira al fascino ed alla magia delle sirene che si immergono nel mare, offrendo un tocco di romanticismo e mistero. 
Un mix di note floreali quali Gelsomino, Rosa e Violetta, unite al carattere frizzante del Bergamotto e caldo del Sandalo e delle note legnose. 
Lasciati trasportare in un mondo di piacevoli emozioni!
Best for
A chi ricerca una profumazione dalle note femminili, delicate e floreali. La fragranza si apre con la freschezza del Bergamotto; al centro vi sono un mix di fiori quali Rosa, Violetta, Gelsomino. Completano il profumo note legnose, Sandalo e Pesca. Una fragranza preziosa ed elegante che incanta con il suo delicato profumo.
How to use
La regola dice di spruzzare il profumo là dove sentiamo le pulsazioni del cuore, quindi innanzitutto sui polsi e sul collo, l'incavo del braccio o delle ginocchia scoperte in estate e sui vestiti. SENZA STROFINARE per non rompere le molecole del profumo che favoriscono l'evaporazione.
Olfactory pyramid
Note di TESTA: Verde, Floreale, Bergamotto. Note di CUORE: Gelsomino, Mughetto, Rosa, Violetta, Ozonica, Orchidea, Gardenia, Eliotropio. Note di FONDO: Legnosa, Ambrata, Sandalo, Musk, Pesca.
Alcohol denat., Parfum, Aqua, Citronellol, Alpha-isomethyl ionone, Hexyl cinnamal, Hydroxycitronellal, Linalool, BENZYL salicylate, Limonene, Geraniol.
---
Express Shipping starting from €12
How a Scotti Perfume Comes to Life...

1. Selection of Essences

The creation of Sorrento's artisanal perfume begins with a meticulous selection of precious essences. Essential oils from local citrus fruits like lemons and oranges are blended with other aromatic notes, forming a unique olfactory mosaic.

2. Fragrance Composition

In the second phase, the chosen essences are skillfully combined to craft the desired fragrance. Perfumers expertly blend top, heart, and base notes, balancing the freshness and vibrancy with deeper, enveloping sensations.

3. Refinement and Artisanal Care

The composed fragrance is then allowed to rest for a refinement period, during which the aromas blend and evolve. Craftsmanship is essential: each bottle is filled with care, sealed, and meticulously decorated to embody the essence of Sorrento in every detail.
Delivery & Customer Care

Fast Worldwinde Shipping

Fast and secure worldwide shipping for our perfumes. Receive your Sorrento fragrance right at your doorstep!

Order tracking

Easily track your order with our Customer Care; you'll always be informed about your delivery's status.

Customer Support

Have questions or want to share feedback?
Contact us via email at info@scottisorrento.com or by phone at +39 0818785942 for personalized assistance.
FAQ

What are the distinctive features of your handmade, high-quality, Made in Italy perfumes from Sorrento?

Our handmade perfumes stand out for the premium essence and Mediterranean inspiration. Each fragrance is carefully crafted in Sorrento, capturing the essence of the coast and its products.

How are your perfumes crafted?

Our perfumes are meticulously crafted by hand in Sorrento, using only precious and natural essences. Every step, from selecting raw materials to creating the fragrance, is carried out with dedication and attention to detail.

What makes "Scotti Sorrento" perfumes unique?

"Scotti Sorrento" perfumes blend the region's historical charm with modern craftsmanship. The fragrances pay homage to Sorrento's landscapes and scents, creating an authentic and memorable olfactory experience.

What guarantees of authenticity and quality do you provide?

We ensure that every product is made in Sorrento, Italy, according to high artisanal standards. Each perfume is tested and carefully packaged to provide a luxurious and high-quality experience for our customers.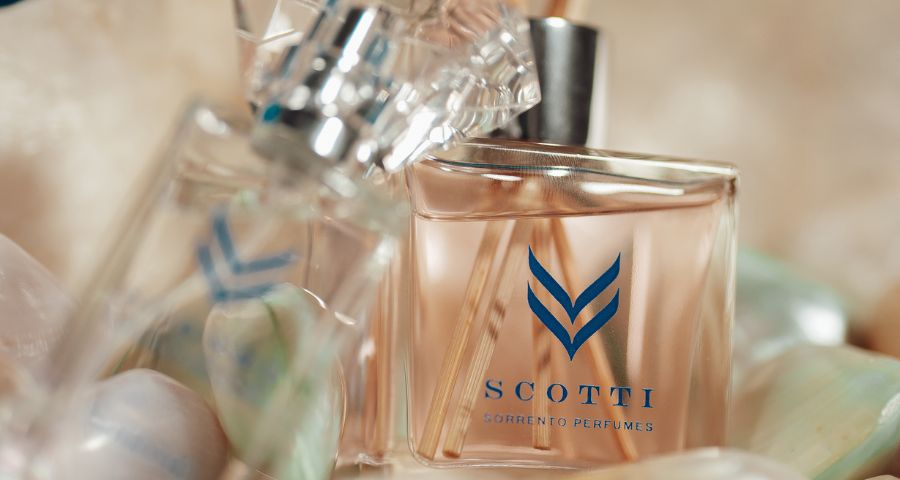 Craftsmanship Made in Italy
Fragrances of Excellence
Our 'Made in Italy' perfumes embody artisanal passion and excellence. Each drop represents tradition, precious ingredients, and the art of generations. Wear authentic Italian luxury.
Autentica diversità olfattiva
Two Lines, Countless Scents
From Mediterranean vitality to the sweetness of legends, you'll discover your perfect essence. Embrace the diversity of our fragrances by choosing the one that mirrors your style and soul.